For sale a complete recirculating system model "UrbanFarm" fully automated for the intensive, the 2.000 – 30.000 kg fish.
Click on the image to see it bigger Complete Recirculating System…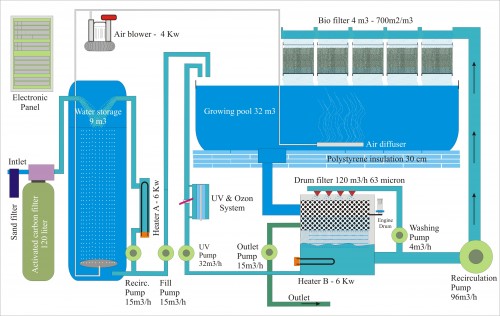 Sale price for complete recirculating system: request offer.
Ensure surcharge juvenile fish, salmon, tilapia, clarias, perch, trout and sturgeon.
All complete recirculating system components are new and in working order.
All Grundfos pumps are Class "Economic".
Delivery within 10 days.
Installation within 14 days.
Obligations of beneficiaries:
Provide concrete slab foundation plate of 60-1.000 m2.
Provide connection to water, well, or supply network.
Provide canopy closure system and hall in winter if the system is off.
To ensure power supply 110 – 220 V single-phase or 220 –  380 V three-phase.
Provide sewerage wastewater discharges.