OLOOSON laboratories we strive to prepare the best caviar salt from around the world for caviar. A delicate salt that penetrates every bean caviar and blooming not just on the surface. Grudgingly bad kitchen salt and iodine are not suitable for caviar.
Even the most refined is not recommended, because it has only sodium chloride at the rate of over 99,9% are missing in bouquet of oromes and tastes of the ingredients bounce oceanic.
Any sea salt which is marketed today do not make good house with caviar due to phosphate mining and metals it contains. In fact this concern for the quality of the jump had it up and the great scientist Grigore Antipa what his Majesty sent him reports, as the Chief al fisheries from Romania.
Another feature of caviar salt is her sterility and bacteria that can degrade the caviar. OLOOSON SALT is indicated for those who are respected and comply with caviar in the preparation.
ARIAP certified product!
Romanian Association for Innovation in Aquaculture and Fisheries (ARIAP) is a non-profit organization founded in 2015 based in Cluj-Napoca, Romania. ARIAP cooperates and supports scientific community with innovative products and solutions.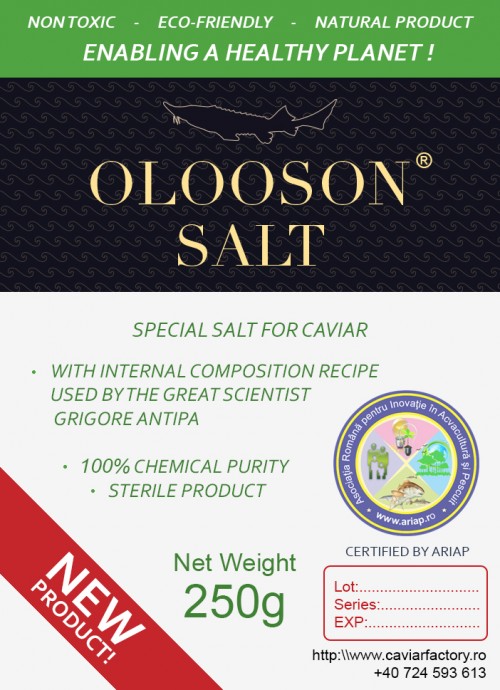 For more information about Caviar Salt please contact us…